GGC is aware that climate change risks from natural disasters, such as droughts, floods, monsoons, etc., can affect the Company's business operations and may cause disruption in the value chain.
Therefore, GGC is committed to participating in the implementation of the agreements of the 26th session of the Conference to the Parties (COP26) of the UN Framework Convention on Climate Change (UNFCCC). In doing so, we are determined to alleviate the impacts of and manage greenhouse gas, maximize energy efficiency in the production process and reduce greenhouse gas emissions from our production activities.
Goals
Limit the amount of greenhouse gas emissions in scope 1 and 2
to not exceed
110,320
tonCO2 equivalent.
Reduce greenhouse gas emissions by
20 percent
by 2030 compared to 2012 base year.
Climate Change Management Structure
The main strategy for climate change management is defining a risk management structure which consists of the Chairman, Directors and Chief Executive Officer. Each management level is assigned their respective duties and responsibilities:
Supervision Level

Duties and Responsibilities

Supervision Level:

Chairman

Duties and Responsibilities:

Supervise, formulate strategies, set operational plans, and monitor the performance of risk and opportunity management of the organization that may be caused by climate change in order to set measures to mitigate the risks and form a suitable framework for GGC's operations. This includes preparation for GGC to fully support the move towards a low carbon economy that may lead to the discovery of new business opportunities in the future.

Supervision Level:

Board

Duties and Responsibilities:

The Risk Management Committee and the Corporate Governance and Sustainable Development Committee are responsible for monitoring regulations related to climate change so that GGC can respond quickly to changes, whether in the form of energy efficiency, alternative energy applications, or setting greenhouse gas emission targets.

Supervision Level:

Chief Executive Officer (CEO)

Duties and Responsibilities:

The CEO is responsible for the distribution of work and management of company operations according to the strategies, policies, and budgets that have been allocated. This includes the formulation of support plans and control of operations to achieve GGC's short-term and long-term targets.
Approaches to dealing with climate change
GGC is committed to analyze the risks, opportunities, as well as the impact on the business sector, in accordance with the Task Force on Climate-Related Financial Disclosures (TCFD) framework to ensure readiness to cope with climate change. This is part of developing strategies and reporting on the effects of climate change.
Greenhouse Gas Emission Performance
Target 2021
Units : Tons CO2 equivalent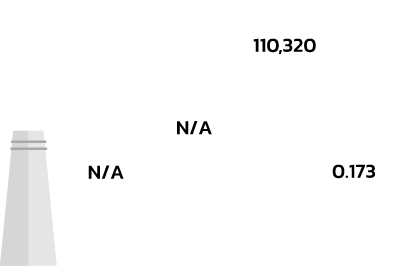 Details of greenhouse gas emissions
Units
Greenhouse gas emissions amount
Target 2021
2018
2019
2020
2021
Greenhouse gas emissions scope 1
Tons CO2 equivalent
6,415
4,128
33,333
30,708
N/A
Greenhouse gas emissions scope 2
Tons CO2 equivalent
66,747
61,382
59,481
57,481
N/A
Greenhouse gas emissions of scope 1 & 2
Tons CO2 equivalent
73,162
65,511
92,814
88,189
110,320
Greenhouse gas emissions intensity scope 1 & 2 per tons of production
Tons CO2 equivalent per tons of production
0.148
0.166
0.178
0.201
0.173